Vegetarian meals can be tasty, easy to cook, and highly nutritious. The trick in creating these meals is proper meal planning and preparation. You cannot hope to succeed without having a meal plan because it's the tool that enables you to plan for the month ahead. You can prepare a meal without being stuck or unsure what to eat, and it generally makes it easier to follow a diet, too.
First, you must create a meal plan; if you know the basics, you can move forward.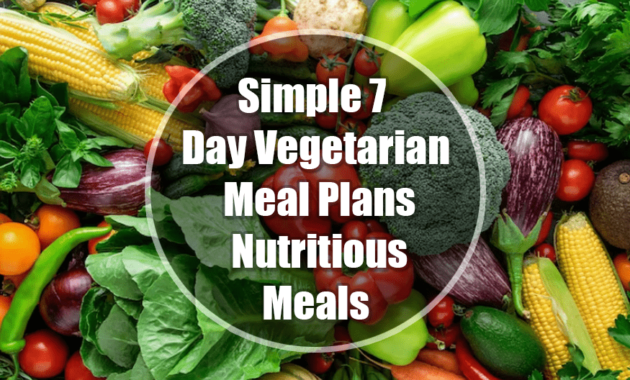 Creating a Delicious Meal Plan
Creating a simple meal plan that can be used repeatedly is easy.
Create a list of vegetarian-friendly foods.
Research specific ingredients you're unsure of.
Think about what meals you already eat that don't contain any animal products.
Set aside seven different breakfast, lunch, and dinner options for the next seven days.
Work out what you're more likely to want to eat each day.
Perfect the plan and begin.
Creating and executing a meal plan is not tricky; you can be creative or straightforward. The great thing about meal plans is that they can be tweaked and re-tweaked until you're 100% happy with them. 
At the end of each week, you do the same for the next week, and you can change things around and make it a little more exciting as you explore new dishes. Be fussy. List only the foods you know you'll eat or want to try. Also, if you don't like to do a lot of cooking, ensure the dishes don't require much effort. Plenty of simple words are healthy and can be made within 10 minutes.
7 day Vegetarian Meals Plan
| Day | Breakfast | Lunch | Dinner |
| --- | --- | --- | --- |
| Sunday | Scrambled eggs with whole-wheat toast | Homemade lentil soup and celery sticks | Chickpea curry with plain rice and steamed vegetables |
| Monday | Oatmeal with mixed berries and a fruit compote yogurt | Grilled sweet potato strips with zucchini slices | Homemade pasta with tomatoes, basil, and herbs |
| Tuesday | Poached eggs with mushrooms and chives served with flatbread | Fruit salad with Greek yogurt and mixed nuts and seeds | Basmati rice with vegetable paella |
| Wednesday | Greek yogurt and a mixed berry milkshake | Feta salad with spicy peppers and onions | Spiced tomato and basil soup with toasted eggplant |
| Thursday | Mushroom, feta, and onion omelet | Grilled pepper salad with Greek-style yogurt with mixed berries | Spicy tomato and onion soup with toasted flatbread on the side |
| Friday | Scrambled eggs with mushrooms, onions, peppers, and spinach | Burrito with beans, brown rice, and a salsa dip | Steamed vegetables with stuffed feta cheese peppers |
| Saturday | Whole-wheat toast with a berry and banana smoothie with almond milk | Stuffed bell peppers with an avocado salad | Cauliflower rice, flatbread, and a bean taco |
Creating a meal plan for seven days is easy enough; incorporating your favorite dishes can make it even more enjoyable. 
Transitioning to Vegetarianism
Dropping fish, meat, and poultry within twenty-four hours is a neat trick but doesn't usually happen. It takes real-time and determination to transition fully onto a vegetarian diet, whether beginners are big meat-eaters or the occasional nibbler.
The body knows when there's a change, and even though it mightn't have been overly bothered about eating meat, it acts funny when it knows it won't be eating it again.
The body hates change – your body hates change. It doesn't like changing its eating habits or the foods it gets and tries to rebel against you.
You have to try and make it easier for the body to transition to vegetarianism. It can be slowed down to suit your body's requirements, but it's not the most challenging thing to do. You don't need to panic about the transition part, as it's straightforward after a few attempts.
Prepare Yourself for The Change
When the body knows a change is afoot, it acts out; however, if you could get your mindset right, where it was ready to embrace change, the body might be more willing to put the effort in.
For example, you can't suddenly stop eating meat when it's something you do every day, so instead, prepare yourself by reducing your intake over time. The body gets used to having fewer meats and having more vegetarian-oriented dishes.
When the body gets more vegetarian dishes, they will appeal slightly more than meat-based dishes, and that's because the body was prepared for the change. It wasn't a sudden change but a gradual one with minor ripples.
However, don't focus on what you can't eat but what you can eat. That's important and will help prepare the body and mind for change without it being so difficult to accept.
Set Your Own Pace
Some beginners can be happy to race through the transitional period to become a fully-fledged vegetarian, but it doesn't work for everyone. Essentially, you have to set your own pace regarding transitioning.
Why?
As said, some beginners take well to the vegetarian diet and don't have many issues about sticking with the diet long-term. However, others try to make the transition quicker and struggle to stay with their diets. It's tough going vegetarian overnight; honestly, there's no race.
It might be better for you to reduce meat, fish, and poultry intake slowly over several weeks if not months, if that's what it takes. The transitional period doesn't have to be fast if it's not at a pace you're comfortable with.
You could always try a day challenge where you cut out meats for one day in particular, and after a little while, the body would get used to having no heart on that day. You could then challenge yourself to do the same for another day and continue with that until you could have no meat any day of the week without missing it or feeling tempted by it.
You set the pace to be as fast or slow as you like.
· All Meals Should Be Simple.
Simple foods work.
There's no need to overcomplicate matters. It's useless, and it's just going to confuse you.
Please keep it simple but fun and offer many weekly meal options.
Only a little cooking is required; plenty of simple dishes take up very little preparation time and even less cooking time. Moreover, cooking many meals ahead and freezing for later can save time, especially if you don't have much to spare at meal times. 
Top Up on Healthy Snacks.
You want to fuel the body, but you can't overload it. Snacks are tricky because most have high sugar content, which could lead to piling on the pounds.
It would help to look at healthy snacks such as raw vegetables, whole fruits (not fruit juices), dried fruits, nuts, and seeds. These are healthy and very filling, so if you eat a little, they could fill you up longer.
Unsure? Look at The Labels First.
If you're preparing a meal using certain ingredients but aren't sure if they are healthy or vegetarian-approved, look at the packaging. There will be some clue as to whether it's suitable to use, and usually, a quick scout over the ingredient list might help clear up a few things.
Checking labels isn't always necessary, but it's good for beginners to get an idea of the origins of their ingredients.
You'll Slip – But Learn from It
Sometimes, you slip up and return to your old eating habits; it's OK. Everyone has a slip occasionally, and we can't all be perfect. However, when you slip and return to poultry, fish, or meat, you can learn from them. You can identify what made you look to these and what you can do in the future to avoid the same thing happening again.
It's a natural learning process, so don't panic if it happens to you. 
Embrace them.