Now that you know everything to start the keto diet, the biggest question is, how do you start? You know all about macros, net carbs, and insulin, but learning and implementing something is different.
It can be daunting to start sometimes, even when armed with the necessary knowledge. And rightfully so! You must begin to calculate your macros, determine how much protein you need today, and so on. But let me reassure you that you have got this! Plenty of people start the keto diet every day and go on to love it. It is a straightforward way of life and easy to incorporate into your lifestyle. 
One recommendation would be to follow recipes that call for fresh ingredients rather than store-bought. Not only is it healthier in the long run, but it also frees up your time so that it is not spent at the supermarket constantly counting the macros on a jar of mayonnaise or determining which pesto is the most keto-friendly. Alternatively, once you find a brand you like, stick to it to make your shopping more accessible since you can remember the macros of that particular brand. Check the nutritional information and the ingredients of your favorite brands from time to time, as brands sometimes quietly change their ingredients. This ensures that you do not reverse your ketosis by accident. Don't fret, nonetheless. Once you shop for a keto diet, you can easily count the macros on everyday keto food items, making it much easier for you. 
Here is a low-budget 7-day meal plan that anyone can follow to kickstart you. It doesn't break the bank, so you can start the keto diet without splurging on expensive ingredients. You can make mistakes without worrying about the costs. Plus, these are simple, everyday recipes suitable for anyone! So get cooking!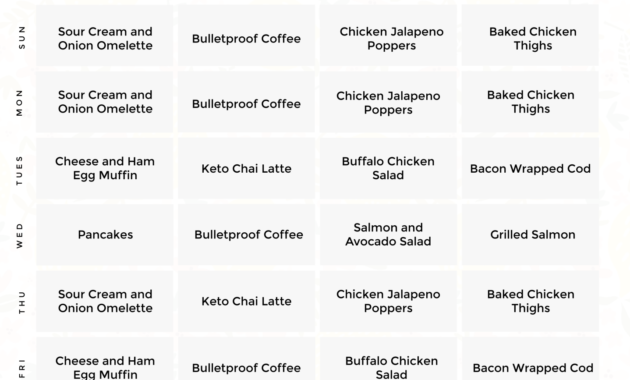 Breakfast Recipes
Sour Cream and Onion Omelette:
Simple, creamy, and cheesy, this omelet is full of protein and makes a tremendous after-workout breakfast or a breakfast of champions to prepare for a busy day. 
In a large bowl, beat three large eggs, 1½ oz onion thinly diced, 1 oz shredded hard cheese, 1½ tbsp full-fat sour cream, salt, pepper, and any other herbs you might like—Heat 1 tsp butter or oil in a large frying pan on medium-high heat. Pour in the egg mixture. Cook for 3 to 4 minutes or until the omelet is done to your taste. Plate and serve immediately.
Cheese and Ham Egg Muffin: These egg muffins are versatile since you can swap around the fillings to add nutrients and flavor to your plate. Bacon, spinach, sausage, and onions are all great additions that make a lovely combo, and you can make a big batch that will last you for days, freezing the rest for later! 
Mix five eggs, then add a pinch of black pepper and salt. Add 1 tsp of parsley, ¼ tsp of garlic powder, ½ tsp onion powder, ½ cup of shredded cheddar cheese, and ½ cup diced ham, and then pour evenly into a lined 6-muffin muffin tin. Bake for 15 minutes or until fully cooked.
Pancakes:
Keto pancakes are a quick, easy recipe for a tasty breakfast. Packed with eggs and keto-friendly flours, they taste even more decadent if you serve them with keto-friendly sausages.
In a large bowl, mix ½ cup almond flour, ¼ cup almond flour, ½ tsp salt, ½ tsp baking powder, ¼ tsp ground cinnamon or nutmeg, and 1 tbsp low/no-calorie natural sweetener. Slowly whisk in 3 room temperature eggs, ⅛ cup heavy whipping cream at room temperature, 1 tbsp melted butter, and ½ tsp good quality vanilla extract. Fry on both sides for 2-3 minutes in a lightly oiled frying pan or griddle over medium-high heat.
Lunch Recipes
Chicken Jalapeno Poppers: So easy to make and so tasty fresh out of the oven, these chicken jalapeno poppers will spice up any lunchtime! 
Cut half a chicken breast into two strips. Place a half slice of jalapeno pepper on each chicken strip, then wrap in a piece of bacon and place on a greased baking tray with the folded ends down. Bake for 45-50 minutes or until chicken is done and bacon is crispy.
Buffalo Chicken Salad: Don't let the name "buffalo chicken" fool you: this is a highly nutritious and healthy meal packed with antioxidants, vegetables, and proteins. It is fresh, meaty, and filled with fiber, dispelling the notion that you can't get enough fiber from a keto diet.
In a large bowl, add together two slices of cooked bacon, diced, one small cooked chicken breast, 1 tbsp melted butter, ½ red pepper, sliced, 1 tbsp hot sauce, two spring onions, chopped, 1 cup cherry tomatoes, sliced, ½ medium avocado, sliced, half a head romaine lettuce, sliced and 2 tbsps ranch dressing. Toss and serve.
Salmon and Avocado Salad: This is a simple lunch packed with healthy proteins, fish oil, and avocado fat, leaving you full and happy until dinner. You can easily prepare it in the morning, ready for lunchtime, at home, or on the go.
Combine 1 tbsp olive oil, a few drops of stevia, ¼ tsp fresh lemon juice, ½ tsp Dijon mustard, 1 tbsp white wine vinegar, and a pinch of salt and pepper into a food processor and mix. Toss one small avocado, sliced, one pack of fresh salad mix, two slices of smoked ham, and one small red onion diced. Top with salad dressing and serve.
Dinner Recipes
Baked Chicken Thighs: With almost all your protein intake for one day, these simple keto-baked chicken thighs are amazing! Not only do they pack on the protein, but they are also full of calories and baked in olive oil, giving you plenty of energy and good, healthy fat to feed your body lovingly.
 Preheat oven to 450°F/230°C. Line 3 chicken thighs (with the skin) on a greased baking dish or tray, then season both sides with salt, black pepper, rosemary, and half a lemon. Drizzle 1 tbsp of olive or avocado oil, then bake for 40-45 minutes or until chicken is done and skin is crispy.
Bacon Wrapped Cod: Pat dry one cod fillet, then sprinkle with the juice of ¼ lemon. Season with salt and black pepper, then brush with 1 tsp of butter or olive oil. Wrap a slice of bacon around the cod, then bake at 400 for 10 minutes or until the cod is ready.
Grilled Salmon: Drizzle 1 tsp of olive or avocado oil on a 2 oz salmon fillet. Sprinkle black pepper and salt to season, then add half a clove of garlic, minced. Grill for 5-7 minutes after searing for 2 minutes flesh-side down. Plate and serve.
Final Words
You now have everything you need to begin your transformation. You must be very excited, and rightfully so! Who wouldn't be keen to experience rapid weight loss or to feel healthier, look good, and save money simultaneously? These are all the incredible benefits that the keto diet brings you.
You may not have even heard of the word "keto" before this book, or perhaps you did but had no clue what it was all about. Maybe you had heard bits and pieces and were unsure if it was for you. This book has given you all the essential knowledge to begin your journey into the keto diet. Now you know what ketosis is and how to check that you are in ketosis. You know the common reasons why you may not be in ketosis and all the pitfalls to avoid undoing ketosis. You understand how to train your brain to appreciate the keto diet, how to cultivate a healthy keto diet, and how to use intermittent fasting as a great tool to boost your keto results. Finally, you have a meal plan sample to kickstart your new life.
All I can say now is: "Cheers to a new, healthier life!" Although we may not be able to drink alcohol on the keto diet, we can toast with some bone broth or, better yet, a nice hot cup of bulletproof coffee! To new beginnings!